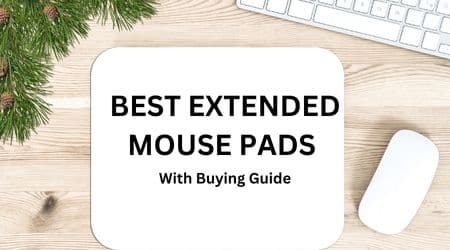 Extended mouse pads are not the necessity, but they have various advantages that a regular sized mouse pad won't give you. If you own a good pc, work on multiple advanced programs or play best games, and use the best mouse available in the market then why you are compromising on the mouse pad. It should be the best, and the best one is the extended one that comes with all the advanced features that can enhance your gaming or working experience.
The extended mouse pads come in large sizes to easily accommodate your keyboard, mouse, and other stuff. They are featured with rubber bases for best gripping and have soft and smooth surfaces to provide precision, speed, and control during gaming or working.
But selecting the best-extended mouse pad is not easy as various manufacturers make the mouse pads with almost the same features but with different qualities. So for your convenience, we have selected the best-extended mouse pads that you can consider for your games or office work. Also, we will share with you a guide on what factors are required to consider before purchasing the best product.
Best Extended Mouse Pads
1. Glorious 3XL Extended Mouse Pad
A great mouse pad that is ideal for gaming and office work is the Glorious 3XL extended pad. It is the biggest mouse pad out there having the dimensions of 48 x 24 inches. Its strong rubber base keeps the pad stick to the table, and its smooth cloth surface reduces friction and is designed for precise pixel targeting.
The mouse pad is clean and presentable; there is only a logo at the bottom right side of the pad. Also, its anti-fraying stitched frame makes it one of the most durable and comfortable mouse pads.
The control, accuracy, and speed are all perfectly balanced that is best for the rough users. Also, its 3mm thickness makes it a lightweight mouse pad. You can easily roll the pad to keep it with you while travelling. Moreover, it's surface material is waterproof, and you can also clean the pad in the washing machine to make it new.
Pros
Lightweight
Largest mouse pad
Anti-slip rubber base
Anti-fraying stitched frame
Provides great speed and control
Comfortable to use
Machine washable
Cons
Size is too big that may cause problems for some users
2. Reflex Lab Extra Large Extended Gaming Mouse Pad
With the dimensions of 36 x 12 inches, it is a large mouse pad that is perfect for keeping your desk protected. You can efficiently manage your keyboard, mouse, and other items on the mouse pad. Its anti-slip rubber surface doesn't allow it to move an inch, and the incredibly smooth surface ensures less resistance and offers précised performance.
The mouse pad has a clean design, and the great stitching around its corners makes it more durable. It is a super comfortable mouse pad that is also quite thick as well. Its 5 mm thickness makes it quite thicker as compared to the regular mouse pads.
Also, there is no need to worry about the spilt drinks as the material used in the mouse pad is waterproof. Moreover, you can wash it in the machine to make it new every time.
Pros
Durable
Anti-slip rubber backing
Smooth surface for less resistance and great precision
Comfortable and thick
Waterproof and washable
Cons
The strong smell comes out after unboxing
3. CORSAIR MM300 Extended Gaming Mouse Pad
The MM300 extended mouse pad from CORSAIR is an anti-fraying model that makes it more durable as compared its previous gaming mouse pads. The length of the pad is 36.6 inches, and the width is 11.8 inches. These dimensions make it the perfect choice for gamers.
The gaming mouse pad comes in combined black and grey colour. The best thing about it is that it will hardly show the signs of dust or stains. Its rubber base makes it stick to a particular position, and the textile-weave surface minimises friction as well as provides accuracy and fast and controlled movements.
It is quite sturdy and reliable, and its 3mm thickness makes it more comfortable to use. Also, it is perfect for both laser and optical gaming mice.
Pros
Anti-slip rubber backing
Textile-weave surface
Good design
Comfortable to use
Excellent control and precision tracking
Cons
Stitched edges are slightly raised that could be uncomfortable
4. PECHAM Extended Mouse Pad
Another professional and comfortable extended mouse pad that is ideal for keeping the keyboard, mouse, and other items together is from PECHAM. Its length is 30.7 inches, and its width is 11.8 inches. The super smooth cloth surface that is made up of Lycra fabric provides excellent speed, control, and accuracy.
No matter how much rough user you are, the rubber bottom of the mouse pad prevents slipping and sliding and provides the best gaming and working experience. It comes with a thickness level of 3mm and has stitched edges that make the mouse durable and reliable.
Also, the mouse pad has a clean design and is very comfortable to use. Moreover, it doesn't get affected due to spilt drinks as it is waterproof. Also, it is machine washable and does not change its shape like the mousepads mentioned above.
Pros
Lightweight
Durable
Anti-slip rubber base
Highly smooth surface with high accuracy and control
Waterproof and washable
Cons
5. HyperX Fury S Pro Gaming X Large Mouse Pad
The mouse pad from HyperX is a good quality pad for gaming or office use. Its 35.4 inches length and 16.5 inches width make it the best partner of the gamers as well as of those who want to keep their office desk well managed and protected.
The back side of the mouse pad is featured with an anti-slippery textured rubber that keeps the pad attached to a particular end. Also, the woven fabric provides a smooth and soft touch and offers top speed, low friction, and perfect accuracy. Moreover, its soft cloth surface and nice padding protect your wrists from pain.
The edges of the pad are also stitched to prevent fraying and are flat to avoid any inconvenience. Also, you can easily take it to another place as it is easy to roll and doesn't change its shape.
Pros
Durable
Comfortable
Densely woven surface for précised mouse tracking
Anti-fraying stitched frame
Easy to carry
Cons
Sometimes the pad slides a bit on the glassy surfaces.
6. SubZERO Gaming TYKA Extended Mouse Pad
With the dimensions of 36 x 18, the extended mouse pad from SubZERO is one of the ideal choices for the gamers. It provides the best gaming experience because of its superior cloth weave surface that eliminates resistance and ensures accuracy and great control.
The massive rubber base of the pad makes it tough never to slide to anywhere despite rough usage. Also, the competition-grade gaming surface is ideal for high-speed and pixel-precise mouse tracking. Moreover, it is clean and straightforward in design that makes it a perfect choice for the office as well as gaming environments.
Moreover, it is quite durable as well. The stitched and flat edges make the mouse pad more comfortable as well as protect it against surface peeling.
Pros
Good quality mouse pad
Heavy rubber base
Precise and smooth
Comfortable for wrist and forearm
Cons
Strong smell that takes a few weeks to dissipate
7. Dechanic Extended Heavy (6mm) Mouse Pad
The heaviest extended mouse pad in the list is from Dechanic that has a thickness of 6mm. It is designed in that way to provide comfortable gaming and working experience. The length of the mouse pad is 36 inches, and the width is 12 inches.
It is quite simple in design that you can also prefer for your office desk. The mouse pad has the same anti-slip rubber base that is necessary for these extended mouse pads to stick to their same position throughout. Moreover, it delivers in-game accuracy and control because of its heavily textured blend surface.
The pad is also featured with dominant stitched edges that make it more durable, but the sides are slightly raised that is a bit concern. It is also washable and easy to fold.
Pros
Heavy and comfortable to use
Controlled gameplay
Anti-fraying stitched frame
Machine washable
Cons
Quite heavy
Raised edge stitching that makes the users slightly uncomfortable
8. Amazon Basics Large Extended Gaming Computer Mouse Pad – Black
If you want a decent quality extended mouse pad at cheaper rates, then it is best to go with the Amazon Basics Large Extended Gaming Computer Mouse Pad. It is not the best in the market, but according to its price, quality and performance are mind-blowing. It's size in length is 35.5 inches , and 16.88 inches is its width.
Other than this, the cloth surface promotes smooth mouse gliding and enhanced precision. Also, the superfine material is designed for less resistance and smooth and speedy mouse movements. Moreover, it is only 0.13 inch think that makes it easy to carry, but many people don't prefer very thin designs.
If we talk about its edges, then they are well protected with stitches that prevent fraying. Also, the material used is waterproof, so there is no need to worry about an accident. You can also wash the pad but only with your hands.
Pros
Anti-slip rubber base
Waterproof and washable
Good balance between speed and control
Cheaper
Cons
Quite thin
Stitched edges are slightly raised that could be uncomfortable
9. Razer Goliathus Extended Chroma Gaming Mousepad
Another big size mouse pad that you can use for your games or office work is the Razer Goliathus Extended Chroma Gaming Mousepad. It is 36.2 inches in length and has a width of 11.5 inches. It is different from the regular Goliathus mouse pads as it comes with the Customizable Chroma RGB Lighting theme design.
The pad is now featured with a redesigned rubber base to enhance the gripping power no matter how much roughly you use the mouse over it. Also, its advanced cloth weave keeps the mouse moving without any difficulty. Moreover, the pad ensures maximum performance in every situation.
Other features of the pad include the same anti-fraying stitched frame, but each company's pad differs in terms of quality. Also, you can roll it every time to carry from one place to another.
Pros
Comfortable
Stylish
Smooth and tight weave for fast gameplay
Anti-slip rubber base
Cons
Stitched edges are not great
10. Aothia Leather Desk Pad Protector, Mouse Pad, Office Desk Mat, Non-Slip PU Leather Desk Blotter, Laptop Desk Pad, Waterproof Desk Writing Pad for Office and Home (Black,31.5″ x 15.7″)
The last extended mouse pad in the list is from Aothia. It is also a decent quality mouse pad in this price that you can purchase for your computer use. With the dimensions of 31.5 x 15.7 inches, the pad is big enough to accommodate your keyboard, mouse, and other office or gaming stuff.
It has an anti-slippery rubber base. The PU Leather is so smooth that it makes the mouse movements accurate and speedy. But some users have called it rough. Also, it is much thicker as compared to many extended mouse pads available.
But the edges are perfectly stitched that make this product a durable one.
Pros
Decent mouse responsiveness
Good size
Anti-slippery rubber base
Cons
Thick and sometimes plays rough
The slickness of the surface is not for everyone
Extended Mouse Pads – Buyer's Guide
Extended mouse pads are generally used for gaming purposes or office usage. The type and quality of the mouse pad depend totally on the usage of the user. Gamers prefer those extended pads that have soft and smooth surfaces, large sizes and hard grips. On the other hand, average users can compromise on the grip and size.
But here we are going to discuss all those factors that are required to consider when purchasing the best-extended mouse pad. So, here we go.
Dimensions
First of all the aspects of the mouse pad is required to focus on. As you are purchasing the extended mouse pad, so it is apparent that you will buy the big one, but it is necessary to keep in mind the size of your desk.
The most massive mouse pad is the Glorious 3XL that comes with the dimensions of 48 x 24 inches. If you are a gamer, then you can go for this mouse pad, but the average size is 36 x 16 or 36 x 12 inches that you can select for both of your office or gaming use.
Thickness
Mousepads with 3mm thickness are ideal to purchase as they are not heavy and easy to carry. But you can still go for the 5mm or 6mm thick pads as they are designed to provide more comfort to the user
Base
All the extended mouse pads come with the rubber base that prevents slipping and sliding of the mats. But the quality of the rubber and its gripping power differs from company to company. So, before purchasing the best-extended mat, it is essential to make sure that the base has strong anti-slippery stuff.
Surface
No matter whether you are a gamer or a normal computer user, everyone wants soft and resistance free mouse movements. Therefore, it is quite necessary to focus on the surface of the mouse pad to make sure that it is made up of good material that can provide you with the best user experience.
For hard gamers, control, precision, and speed are all critical. If you are a gamer, make sure that your mousepad is optimised for all sensitivity settings and sensors and offers total tracking responsiveness.
Stitched edges
Almost every extended mouse pad comes with stitched edges to prevent fraying, but it is mandatory to do proper research to know which of the brands offer durable, extended mouse pads as the quality of stitching vary from mouse pad to mouse pad. Also, make sure that the edges are not raised as they could make you uncomfortable.
Waterproof
Water-resistant mouse pads are ideal to purchase as they don't get affected with the spilt drinks or other accidents. Sometimes you feel hungry or thirsty and bring your food or drink to the table, so it is good to purchase the waterproof mouse pads to save your mat from being affected.
Washable
Different manufacturers say that their mouse pads are machine washable, but after some washes, they change their shapes and sizes. Therefore, always make sure that the product you are selecting is durable and will not deform after a few washes.
Read Also : Are Extended Mouse Pads Worth It?
Best Practices For Keeping It In Good Condition
Besides cleaning it regularly, there are other best practices to keep your extended mouse pad in excellent condition:
Avoid eating or drinking over your gaming pad as any spills can permanently stain it.
Don't place heavy items on top of your extended mouse pad, which can leave dents or creases on the surface.
Store your extended mouse pad in a dry and cool place to prevent moisture buildup that can cause mold and mildew growth.
Lastly, replace your extended mouse pad if there are tears or frays along the edges.
Cleaning and maintaining your extended mouse pad is crucial for optimum performance and longevity. By following these simple steps, you can keep your gaming pad in tip-top shape. Remember to clean it regularly and ensure you follow good best practices to keep it in excellent condition.
Happy gaming!
Frequently Asked Questions On Extended Mouse Pads
What Is An Extended Mouse Pad?
An extended mouse pad is an oversized mouse pad that offers a larger surface for mouse movement. It is designed to accommodate both the keyboard and mouse for comfortable and uninterrupted gaming experience.
What Are The Benefits Of Using An Extended Mouse Pad?
Using an extended mouse pad offers several benefits such as a larger surface for mouse movement, comfortable positioning of the keyboard, durability, and sleek aesthetics. It also provides a uniform surface for mouse movement on any desk.
Can An Extended Mouse Pad Fit All Desk Sizes?
Yes, an extended mouse pad can fit all desk sizes, as it comes in different sizes. It not only protects the desk surface but also adds a sleek look and uniformity. The size of an extended mouse pad depends on the user's preference.
What Is An Extended Mouse Pad Made Of?
An extended mouse pad is made of different materials such as rubber, foam, or cloth, and other high-quality materials that provide durability and long-lasting use. These materials are also soft enough to enhance grip, comfort, and precision during mouse movements.
How To Clean An Extended Mouse Pad?
An extended mouse pad is easy to clean. One can use a soft-bristle brush or a damp cloth with mild soap to clean the surface. It is essential to ensure that it is entirely dry before reuse to prevent damages.
Avoid using harsh chemicals or abrasives that may damage the surface.
Conclusion
After considering the benefits that an extended mouse pad brings, it is clear that it's worth investing in one. It offers a larger surface area for your mouse to glide on, preventing any interruption to your game or work. The added comfort and support to your wrist and forearms help to prevent unnecessary strain or injuries.
The ease of cleaning, durability, and aesthetic appeal make it a versatile and practical addition to any setup. With the various designs and sizes available, it's easy to find one that matches your preference and needs. Overall, an extended mouse pad is an excellent way to improve your productivity, enhance your gaming experience and protect your physical health.
Don't hesitate, invest in one today, and enjoy the benefits for years to come.