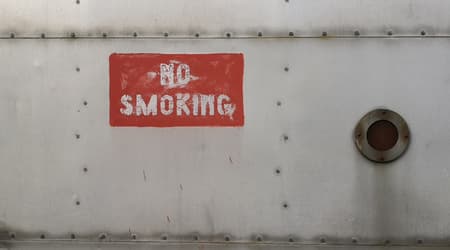 Nicotine replacement therapy (NRT) is a variety of strategies that slowly wean smokers off nicotine. This helps many get through the early stages of cessation when cravings are the strongest, according to the NIH's write-up on tobacco dependence. Researchers estimate that NRT increases quit rates by 50 to 70 percent.

Smokeless NRT options are designed to help smokers quit in the most convenient and discreet way possible. They can be used in public places like the bus on your way to work or even the office so that smokers can better manage withdrawal symptoms without disrupting their everyday routines.

Here's a look at our top recommendations for smokeless NRT options.
1- Nicotine Polacrilex 2mg Medicated Chewing Gum
Brand: Nicorette
Manufacturer: Johnson & Johnson
Color: Assorted

Nicorette chewing gum was developed in the late 1970s as the first nicotine replacement product on the market. Its popularity remains strong despite the entrance of new competitors because chewing gum helps distract from physical cigarette cravings. In fact, it became even more widely used after Nicorette launched Peppermint, the first coated nicotine gum, in 2004.

Today, Nicorette has a wide array of flavors that can cater to younger and older adults.
Customer reviews
"I quit smoking using the gum for over 3 years. Now I am addicted to the gum."

"I smoked a pack a day for about 12 years and then quit with vaping. I vaped for over five years and just quit vaping with this gum in March. This is the best nicotine gum you can get (I've tried them all, even lozenges). Great flavor and texture. I only wish they would come out with a zero mg with the same texture and flavors to help jump off the nicotine."

Advantages
Variety of flavors
Chewing can help other withdrawal symptoms such as anxiety and stress
Nicotine is absorbed quickly through the mouth's lining
Sugar-free options
Available in a convenient 15-count package
Our Recommendations
If you're looking for an accessible smokeless NRT, Nicorette chewing gums are your best bet. They're easily found online and in convenience stores, so you can even switch up flavors whenever you tire of your old one.
2- ZYN nicotine pouches
Brand: ZYN
Manufacturer: Swedish Match
Color: Assorted
Nicotine pouches were only released as a medicinal nicotine replacement product in 2008 but are currently one of the fastest-growing nicotine delivery products in the United States. Pouches are a cleaner, more convenient way to absorb nicotine because users simply have to tuck the pouch between their gums to release the chemical.

Many brands thus emphasize this "clean" process. ZYN is one of the nicotine pouches available on Prilla that emphasizes careful nicotine extraction. ZYN purifies the nicotine derived from the tobacco plant using a high-tech distillation procedure. This ensures it's the highest and purest quality, so users do not need to consume more nicotine than necessary to wean themselves successfully.

Customer reviews
"I've been a 1-2 can of skoal for over 30 years. My wife got tired of all the sludge jugs around the house. She asked me to give it an honest try and I haven't bought a can of dip in almost 3 months."

"I must say that this product is amazing. It has saved me on many occasions, especially on my nightshifts."

"Spearmint is my favorite mint variant, so this is one that I'd absolutely recommend. The ZYN series has a high quality to it, and this is one of the shining stars of the Zyn family. If you're a nicotine pouch fan and looking for a good all-day, everyday mint, this is one you'll want to check out."
Advantages
Variety of sugar-free flavors
Easy disposal after use
Spit- and stain-free
Cleaner mouth feel
Nicotine is released more evenly through the pouch's lining
Our Recommendations
Nicotine pouches are convenient and are significantly more efficient at delivering nicotine when compared with Nicorette's chewing gums. However, both oral smokeless NRTs are effective and high-quality, so choose the best product that fits your preference.
3- NicoDerm CQ nicotine patches
Brand: NicoDerm CQ
Manufacturer: ALZA Corporation
Color: Blue
If you aren't a fan of consuming nicotine orally, you might enjoy the transdermal nicotine patches by Nicoderm. This only has to be applied to clean, dry skin and can stay on for up to 24 hours. This is especially great for smokers who wake up craving cigarettes as well as individuals with an active lifestyle because the patch is water and sweat resistant.
Customer reviews
"I can't express to you how happy I am with this product… I've been smoking for 12 years and got up to 10 plus cigarettes a day even more than that when gaming or (Screen staring for long periods of time).
I have now used Nicoderm CQ for 4 days and have not smoked or craved it whatsoever! My patch stays on 24 hours without coming off… of course I cleaned the area arms really good/ shaved body hair before applying… it's great all the way around! My kids and family and super proud of me and I'm proud of myself! Thank you for such an amazing product!! FIVE STARS!!"
Advantages
Waterproof
Sweatproof
Discreet and easily disposed
Our Recommendations
These patches are the best for those who are low-maintenance. You'll barely notice them as you go through your daily activities!
4- QuitGo soft-tip oral oxygen inhaler
Brand: QuitGo
Manufacturer: Harmless Products, LLC
Color: Assorted

Many smokers find it difficult to break the physical habit of "gestures" in the traditional cigarette smoking ritual. This is where tobacco-free inhalers come in.

These mirror the act of smoking without the harmful vapor and instead deliver only air, essential oils, flavoring, and pyruvic acid. Quitgo took the process of cessation a step further with their chewable soft-tip inhaler. This helps to relieve the natural stress or anxiety during cravings. In fact, a 2021 study revealed a higher likelihood of quitting successfully at week 24 amongst those who used Quitgo versus those who did not.

Customer reviews
"I am cigarette free over a year and a half now. Honestly I had that thing in my mouth all day long for like the first two months. I was sick for a week withdrawing from cigarettes did cold turkey I didn't wanna have to wean myself off some nicotine patch or anything. I really think it works if you're ready to give it up!"

"works great just like the real deal."

"My mom has been smoking since the 70s. She's tried everything to quit smoking and normally goes right back to it. I bought her these and she requests new ones every couple of weeks. She loves them!"
Advantages
The soft-tip helps soothe withdrawal symptoms like anxiety
Looks and feels like a real cigarette
Our Recommendations
Quitgo looks exactly like a cigarette, but contains none of the harmful chemicals. These are a lifesaver for when you feel the urge to hold something in your mouth. They even come in different flavors like citrus and cinnamon!
Start your cessation journey with any of the smokeless NRTs listed above and supplement your process with ACT Dry Mouth Lozenges or any of the other dry mouth mints from our buying guide for 2023. By tackling the side effects of tobacco alongside the withdrawals, you too can successfully quit smoking.