An underwater metal detector is a specialized device used to locate metal objects underwater. It works by emitting electromagnetic pulses which bounce off metal objects and are detected by the device's sensors.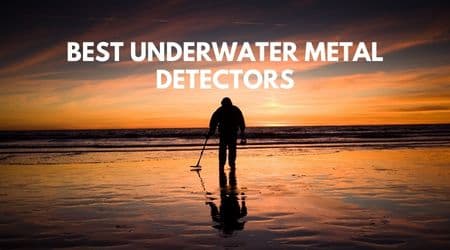 As technology continues to advance, underwater metal detectors have become an essential tool for divers, treasure hunters, and oceanographers. These devices can be used to find lost jewelry, coins, shipwrecks, and even sunken airplanes. Additionally, they are also used to locate and recover debris and dangerous objects from underwater environments.
However, the selection of these metal detectors is not as easy as they differ from each other in terms of depth, accuracy, and detection type. So, if you want to purchase a good quality underwater metal detector, then are you are in the right place. Here we are going to review the ten best underwater/waterproof metal detectors to help you out in finding the best one according to your needs.
On the other hand, if you want to go for other metal detectors, then here we have also a buyer's guide through which you can learn what things you should look in an underwater metal detector before the purchase.
The Science Of Underwater Metal Detection
Understanding How Underwater Metal Detectors Work
Underwater metal detectors work on the principle of electromagnetic induction. The device consists of a search coil, which acts as an antenna to transmit electromagnetic pulses through the water. When the pulse comes in contact with a metal object, it induces an electrical current in the object, which in turn creates a magnetic field.
The detector's receiver coil detects the magnetic field and produces an audible signal to notify the user.
How To Interpret Signals From Underwater Metal Detectors
Interpreting signals from an underwater metal detector can be challenging. Here are some tips to help you understand the signal better:
Familiarize yourself with the different types of signal responses, such as audio, visual or vibration.
Check the detector's manual to see how signals are displayed on the device.
Practice identifying different types of metal by burying them underwater and testing the detector's reaction.
Be aware that other factors, such as soil type or nearby objects can affect signal responses.
How Different Settings Impact Detection
Settings on an underwater metal detector can be overwhelming, but understanding how they impact detection can help improve your success rate. Here are some important settings to consider:
Sensitivity affects the detector's ability to detect small or deep targets. Higher sensitivity is ideal for shallow water, while lower sensitivity is better for deeper water.
Ground balance compensates for mineralization in the water, which can interfere with detection. Automatic ground balance is the easiest setting for most users.
Discrimination helps the detector distinguish between different types of metal. Adjusting this setting can help filter out unwanted signals and improve detection accuracy.
With a better understanding of the science of underwater metal detection and key settings to consider, you can get the most out of your underwater treasure hunting experience. Happy exploring!
Best Practices For Underwater Metal Detecting
Underwater metal detecting is an exciting activity that can unearth a lot of treasures, especially in shipwreck sites. However, it is important to observe best practices to ensure your safety and the longevity of your underwater metal detector. We will explore the necessary steps to take when underwater metal detecting.
Successful Techniques For Finding Treasures
Successful underwater metal detecting is not just about wandering around aimlessly with a detector. Here are some techniques that can help you find treasures:
Research the history of the area you plan to search in before diving. This will increase your chances of finding valuable items.
Pay attention to sea conditions such as waves and tides, as they can greatly impact your visibility and detecting abilities.
Use a proper metal detector model for underwater purposes. Look for metal detectors with waterproof capabilities, such as submersible coils, and make sure it has sand, minerals, and freshwater modes.
Use headphones to improve your sound quality and locate small targets.
Wave your metal detector's search coil slowly and in controlled zigzags back and forth to cover the area effectively.
Best Underwater Metal Detectors
1. Fisher CZ21-8 Underwater Metal Detector – Best Metal Detector Under $1400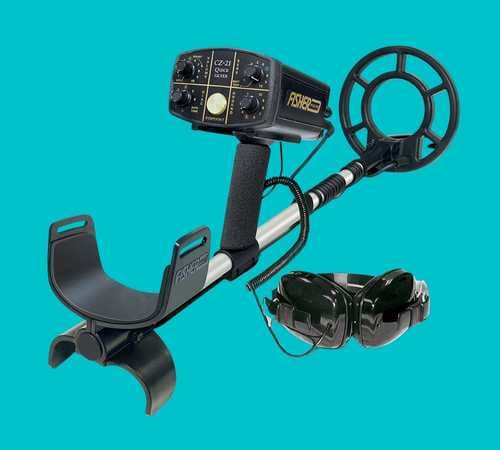 Product Dimensions: 12 x 6 x 21 inches
Item Weight: 6.6 pounds
Water Depth: 250 feet
Operating Frequency: 5 and 15 kHz
If you are searching for the best underwater metal detector, then this Fisher CZ21-8 is the perfect choice for you. It can work as deep as 250 feet underwater to help you to find the treasure you want to uncover. No matter whether it is salt or freshwater, it works effectively.
This metal detector can work on dual frequencies that are 5 kHz and 15 kHz as it is a pulse induction machine. It comes with both 8-inch and 10-inch coil options and features a Fourier domain signal analysis. It offers precise pinpointing and the VCO option for accurate target pinpointing and identification.
This detection machine also performs quite well in the mineralized soil. Also, it has a control box that is quite easy to use. If you are getting weaker signals for anything, you can increase the volume to listen to the signals carefully.
There is also an all-metal auto-tune mode, but the machine also features a discrimination mode having three different tones. The highest and loudest tone is for coins and jewelry. A medium-level tone is for gold and foil. And when you hear the low tone, then it means there is iron near you.
Other than this, its pole assembly is fully collapsible. Also, control housing is removable. Moreover, it requires four 9V alkaline batteries, weighs 6.6 pounds, and comes with a 2-year warranty.
2. Garrett Sea Hunter Mark II Underwater Metal Detector – Best Metal Detector Under $1000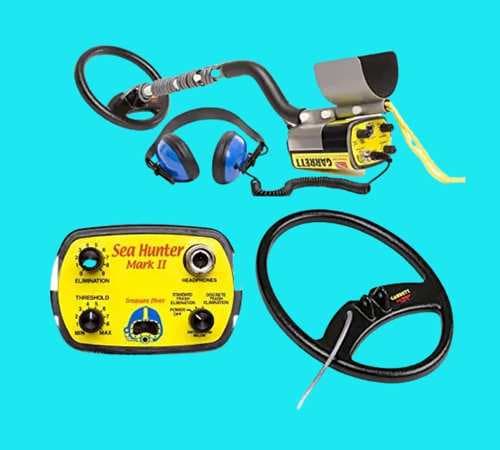 Product Dimensions: 26.5 x 12.4 x 3.3 inches
Item Weight: 3.2 pounds
Water Depth: 200 feet
This Sea Hunter Mark II from Garrett is another high-quality underwater metal detector that has an operating depth of 200 feet. For beach hunting and scuba diving, this metal detector is an ideal choice for you.
It comes with a pulse induction technology that avoids the salt and ground mineralization and only focuses on metals, coins, jewelry, and gold. The metal detector comes with four stem arrangements. You can either make it short or long to make your searching easier no matter whatever the location and situation are.
The Garrett Sea Hunter Mark II has an excellent discrimination system having two different modes. One is the Standard, and the other one is Discrete. Its custom-designed housing and multiple configurations make it different and superior to many of the underwater metal detectors.
It has a rapid target response, offers greater sensitivity, and features an 8-inch epoxy-filled search coil. It also features a hip mount belt that helps you to do long searches with ease.
3. Minelab Equinox 800 Metal Detector – Best Metal Detector Under $999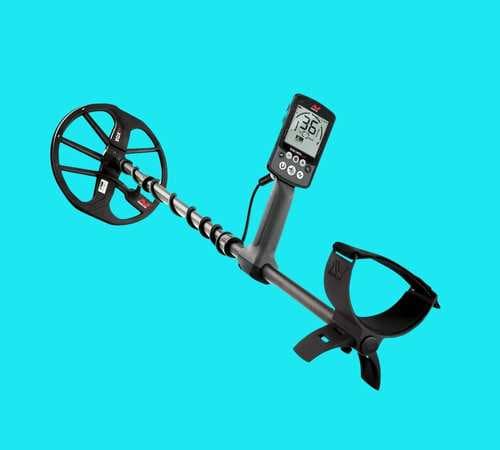 Product Dimensions: 56.7 x 12.28 x 4.96 inches
Item Weight: 2.96 pounds
Water Depth: 100 feet
MINELAB offers a Equinox 800 Metal Detector that is completely waterproof having an operating depth of 100 feet. It comes with Waterproof Coil so it won't sink into the water. Also, its lightweight keeps the perfect balance between floating and sinking.
The Equinox 800 Metal Detector comes with a EQX 11" Double-D 11-inch coil that offers excellent sensitivity of pulse induction detection. The searching coil is quite sensitive to gold, but it doesn't mean that it is not suitable for detecting other metals. The pulse induction technology helps to find the treasure in the saltwater and mineralized ground.
Other than this, the metal detector features an adjustable pulse delay that helps you to find your targets easier. It decreases the noise from junk and black sand.
Moreover, it is quite easy to use and requires eight AA batteries to make it operational.
4. Garrett AT Pro Metal Detector – Best Metal Detector Under $600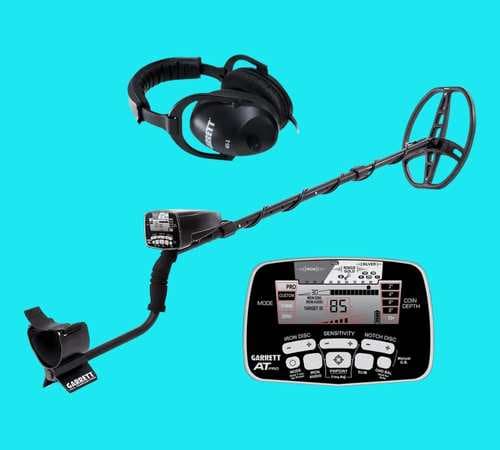 Product Dimensions: 22 x 11 x 5 inches
Item Weight: 3.03 pounds
Water Depth: 10 feet
This Garrett AT Pro is a waterproof metal detector but can only work 10 feet deep inside the water. For in-depth findings, it is not designed for that purpose. It also works perfectly in wet, dusty, and humid environments.
Ideally It is used to find jewels, coins, gold nuggets, and caches. It comes with two searching modes. One is the Standard mode, and the second one is the Professional search mode. Standard mode is for beginners that simplifies the audio signals. And the Professional mode provides with detailed audio feedback.
The true all-metal mode allows the users to hear the characteristics of the metals they are targeting. The machine is also is equipped with high-res iron discrimination that is responsible for splitting useful targets from trash. The 0 to 99 digital target ID scale differentiates the conductivity of one target from the other one.
The last thing about this metal detector is that it is easy to use, and requires 4 A batteries to become operational.
5. Garrett ATX Deepseeker Underwater Metal Detector – Most Expensive Underwater Metal Detector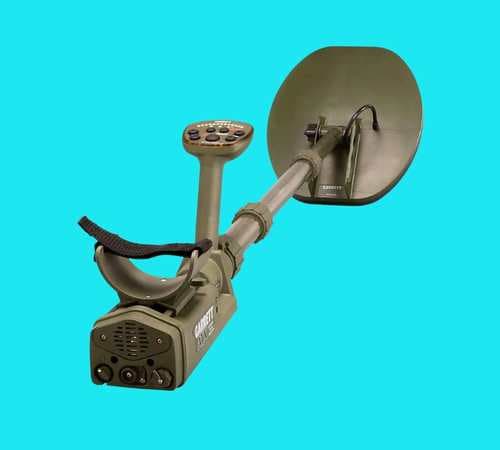 Product Dimensions: 25 x 20 x 10.5 inches
Item Weight: 34.9 pounds
Water Depth: 10 feet
This Garrett ATX Deepseeker metal detector can work well underwater. It has an operating depth of 10 feet. Beyond this depth, it fails to work. It is a pulse induction machine having a large size searching coil that works well in saltwater to help you in finding your targets fast and with accuracy.
You can either set the default setting or choose between four different settings according to your needs. In a default setting, the machine will change itself to focus on your target. Also, you can adjust the four settings as per your preference.
It also has a simple LED screen having indicators to show you the signal strength of your target as well as your current settings. Moreover, you can adjust the volume control to listen to the faint signals carefully. Also, you have a waterproof speaker to get notified without using the headphones.
The machine also has a quick iron check feature and offers adjustable discrimination option.
6. Bounty Hunter TK4 Tracker IV Metal Detector – Best Metal Detector Under $200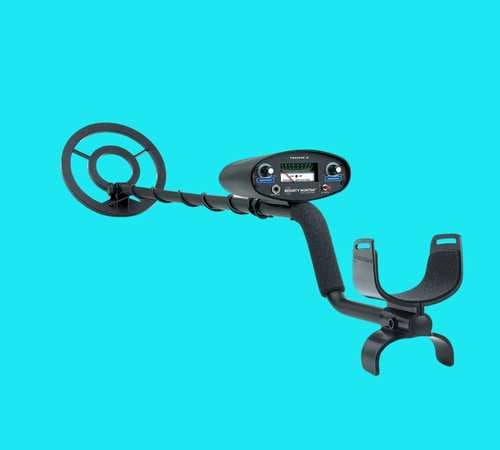 Product Dimensions: 28.2 x 10 x 6.2 inches
Item Weight: 3.7 pounds
Water Depth: 8 feet
Operating Frequency: 6.7 kHz
This Bounty Hunter TK4 is made for extremely tough conditions. It comes with an 8-inch waterproof searching coil that can locate your coin size targets up to 8 inches deep. But if you want to look for more significant targets, then the machine can only work up to 3 inches deep.
It comes with an operating frequency of 6.7 kHz and requires two 9V alkaline batteries for operation. If we talk about its operating features, then there are three modes of operation. The all-metal motion mode notifies you on the detection of every metal. The discrimination model differentiates between the target types. Also, there is a 2-tone audio mode.
The metal detector doesn't count the minerals. Also, its disc/notch control differentiates between the useless metals and the useful targets.
Other than this, its control interface is easy to use. Just turn the knobs and select your desired settings. Moreover, there is a built-in speaker, so there is no need to wear the headphones.
7. SAKOBS Waterproof Metal Detector – Best Metal Detector Under $150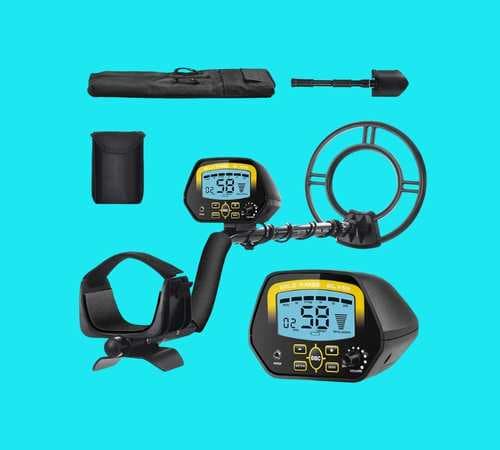 Product Dimensions: 33.46 x 11.42 x 6.3 inches
Item Weight: 4.5 pounds
Another great waterproof metal detector on the list is from New Home Innovations that both adults and kids can use for hours to find the treasures inside the ground. You can use it on the beach or in your garden or backyard. It helps you to find metals, coins, jewelry, and gold along with the pieces of silver.
The best thing about this metal detecting machine is that it is super-easy to use. Its pin-pointer function, built-in speakers, one-touch auto-tune option, and the comfortable arm-supporting handle make treasure hunting easier and safer.
The sensor installed in the searching coil is of high-sensitivity. You can look for your targets with ease and in no time. The discrimination feature lets you forget the unwanted metals. Also, the low-battery indicator notifies that you have less time to look for your treasure.
A multi-functional folding shovel is also included in the package. Also, a beginner's guide and a user guide are always there to help you.
8. wedigout Fully Waterproof Underwater Metal Detector – Best Metal Detector Under $300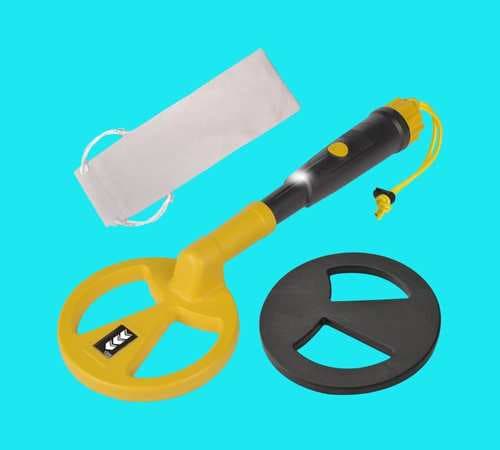 Product Dimensions: 14.53 x 6.06 x 2.68 inches
Item Weight: 325 Gram
Water Depth: 100 feet
Another pulse induction metal detecting machine on the list is from TTLIFE. It is designed to use both in saltwater and freshwater. The machine can work as deep as 100 feet to help you find your coins, jewelry, metals, and other things.
This metal detector assists you in finding the right place where your target is buried. It not only works underwater but also in any type of soil or land. When it detects the target, the unit alerts you with the pulses of vibration. Also, the bright white light flashes when the detector finds the target. When the probe tip reaches the target precision pinpointing, you will notice the increase in the frequency of the vibration pulses.
Moreover, the machine features an easy tilt on and off option. Also, there is a low battery indicator that senses the weak position of the battery and alerts you before shutting down automatically.
If we talk about the downside of the product, then according to some users, the vibration feature starts causing problems just after few months of usage.
9. Bounty Hunter TK4 Tracker IV Metal Detector, 8-inch Waterproof Coil Detects – Features an Earphone Jack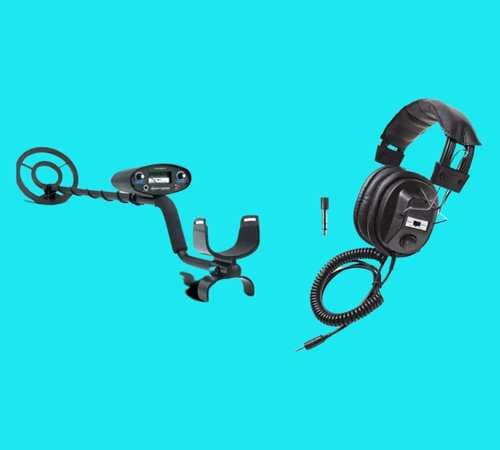 Product Dimensions: 28.25 x 10 x 6.25 inches
Item Weight: 3.70 lbs
Operating Frequency: 6.6 kHz
This waterproof metal detector from Bounty Hunter comes with three dominant detection modes. The all-metal mode allows you to find any metal with ease. The adjustable discrimination mode helps you to differentiate between the target objects. And the 2-tone audio mode comes with an automatic iron rejection.
It is designed to work in both salt and freshwater. Its 8-inch waterproof searching coil is highly sensitive. Also, the coil and stem are weather resistant. Moreover, the stem is also adjustable.
The Bounty Hunter also features a 3.5 mm earphone jack so that you can hear the alerts nicely with the help of an earphone. Its control panel features a meter and two knobs along with additional buttons for slight customization with the search.
But the main drawback of this product is that it doesn't work deep down the water.
10. 750 Underwater Metal Detector for Diving – Lightest Underwater Metal Detector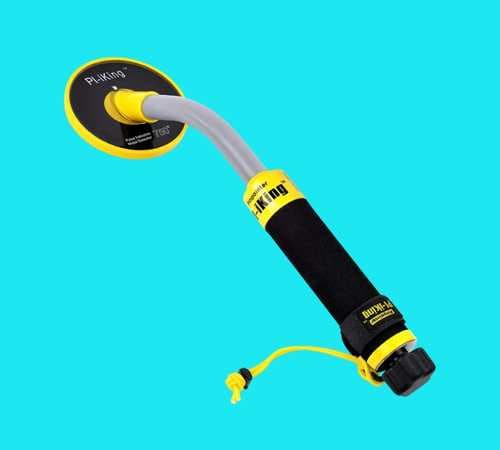 Product Dimensions: 20 x 5 x 5 inches
Item Weight: 1 pounds
Water Depth: 100 feet
Operating Frequency: 6.8 kHz
The last but not the least underwater metal detector on the list is from VVinRC. It has an operating depth of 100 feet. Its highly sensitive search coil detects the exact location of the target objects. You can either use it in water, on land, or in soil because of its pulse induction technology.
It features tilt on and off option that makes it easy to use. When the coil detects the metal, it starts to vibrate and the LED light flashes. Its built-in advanced microprocessor and auto-tuning feature offer stable detection depth that helps you to find the correct location of the target all through its battery life.
It requires a 9V battery for operation, but it is not included in the package. You have to buy it separately.
Buyer's Guide
Before going to purchase the best underwater metal detector, it is necessary to go through every aspect and feature of the product. Without ensuring that you are purchasing the right product according to your needs, it is useless to buy it. So, here in this buying guide section, we are highlighting some factors that you should consider before spending money on a particular underwater metal detector.
Type of Detection
The first thing that you must look at is the type of detection your underwater metal detector features. These metal detectors feature two types of deduction. One is the VLF detection that is very low-frequency detection. And the other one is the Pulse Induction detection.
VLF detectors are highly sensitive to minerals. They are designed to use in freshwater where the minerals are in low quantity. They mainly focus on those metallic and precious objects which you want to find under the ground and ignore the other things.
But if we talk about the Pulse Induction detection system, then it is not sensitive to minerals. Therefore, you can use this detection system in the ground. Also, they work in any type of soil and the saltwater. But they do catch unwanted junk which is a negative side of the PI model.
Also, if we talk about the difference in price, then PI models are more expensive as compared to the VLF detection systems.
Operating Depth
How far your metal detector can go inside the water is important to know. Some metal detectors can go as deep as 250 to 300 feet and work perfectly fine. Whereas some metal detectors can only detect metals as far as 10 to 15 feet. Moreover, there are also other metal detectors that come with waterproof coil and stem, whereas some other machines only feature waterproof coils.
So, it depends on your needs and the work you do to either select a detector that offers good operating depth or to select one that features only waterproof searching coil.
If you don't know the art of swimming or haven't gone deep underwater, then the metal detectors that can go more than 200 feet below the surface are not for you. But if you mostly do scuba diving, then you must go for that. However, it is recommended to select a product with greater depth because you never know when you will be going to hunt for treasure deep down the water.
Weight and Buoyancy
Another important factor that you must consider is the weight and buoyancy. As you are going to dive into the water with the metal detector so it must have neutral buoyancy so that it fails to sink quickly. Also, the metal detector must not be so light to move upwards frequently.
So, here, balance is the key. Therefore, it is necessary to check the weight of the metal detector before buying to ensure that it will not sink too quickly or try to float constantly to the top.
Accuracy
Accuracy is the key for metal detectors. If you have a metal detector that is not accurate, then you won't be able to find the treasure on time. Each model differs from the other one in terms of accuracy. So, before purchasing your ideal metal detector, it is necessary to read the product description. Also, it is essential to read the reviews of the users to ensure that you are buying the right product.
If you are not going to find anything deep then you may not need a metal detector having long-range and accuracy. But if you always go deep inside the water, then accuracy and range count much because as you go deep, it becomes hard to find the hidden objects.
Versatility
Your metal detector should be versatile. Some of the metal detectors only work in freshwater, whereas there are many detecting machines that work in both salt and freshwater. These types of detectors feature pulse induction technology that allows them to work both in fresh and saltwater. Also, if you want to look for metal objects on land, then these metal detectors will also help you out.
Other than this, if you want to use an underwater metal detector on land, then you have to focus on the weight of the machine as you will surely find it heavy to handle the machine on land.
Locking System
A good locking system is also quite essential for a metal detector. If you are buying a detector that is fully submersible, then it must have a strong locking system to keep the entire unit together even when the strong waves meet the stem.
Weather-resistant
As you can use the underwater metal detector on land so it must be weather-resistant if you are willing to use it on land to find out the metal objects.
Battery Backup Feature
Battery backup feature is also quite essential. The reason for this is that it will not allow the detector to shut down when the original battery loses its power. The unused extra battery will get activated when the used one becomes zero.
Additional Features/Accessories
If we talk about the additional features/accessories, then waterproof headphones are an excellent addition. Also, 2-tone audio is an improvement and must-have in your selected metal detector. Other than this, some metal detectors come with extra detecting features. When they detect any object, they vibrate as well as the bright light flashes to make you aware that you are quite near to your treasure.
Price
Price is another thing that you must look at. Basic and simple underwater metal detectors are low in price, whereas advanced machines are expensive. Also, the type of detection determines the price of the metal detector. If there is VLF detection, then the price will be low, but if there is a pulse induction, then the price will be higher.
Safety And Tips For Safe Underwater Metal Detecting
Underwater metal detecting poses some risks, but risks can be mitigated by observing basic safety measures. Here are some tips to assist you in staying safe:
Always dive with a partner. Never dive alone.
Understand the risks before diving into the water, such as water temperature, visibility, currents, and aquatic life.
Check the weather and tide predictions before heading to the water.
Always wear the required diving gear of wetsuit, fins and diving mask and a weight belt for buoyancy and balance.
Make sure your diving certification is up to date, and you have received adequate training in underwater metal detecting.
How To Properly Maintain And Care For Your Underwater Metal Detector
Caring for your metal detector is crucial in ensuring it lasts for a long time. Here are some tips that can help you take proper care of your underwater metal detector:
Rinse your underwater metal detector thoroughly in freshwater after each use. Saltwater can cause damage to metal detectors.
Store your metal detector in a dry place. Avoid storing it in damp areas, which can cause the metal detector to corrode and rust.
Regularly check your metal detector's battery and replace the batteries when necessary.
Keep the metal detector's search coil and control box clean and dry.
Do not expose your underwater metal detector to extreme temperatures as it can affect the internal components.
Using a metal detector in an underwater environment can be a thrilling experience, but it is crucial to take the necessary safety measures and follow best practices. By taking care of your equipment, doing proper research, and diving with a partner, you can make the most of your underwater metal detecting experience, find valuable treasures, and stay safe.
Underwater metal detecting is a fascinating hobby that has been around for decades. It involves using specialized equipment to locate metal objects lost underwater, whether it is ancient treasure or modern-day possessions. But, before we delve into the details of this exciting pastime, let's explore the history of underwater metal detecting.
Historical Finds And Their Stories
Over the years, there have been numerous historical finds made by underwater metal detectors, including:
The antikythera mechanism – discovered off the coast of greece in 1901, this ancient bronze device is believed to be the world's oldest analog computer.
The hoi an shipwreck – uncovered in vietnam in 1999, this 15th-century shipwreck contained over 250,000 ceramics, rubies, sapphires, and gold objects.
The mary rose – this famous tudor-era warship sank off the coast of england in 1545 and was discovered in 1971 by a diving enthusiast.
A Timeline Of Underwater Metal Detecting Over The Years
Underwater metal detecting, as we know it today, began in the 1960s when scuba diving equipment became more widely available. Here are some of the key moments in the history of underwater metal detecting:
1960s: Scuba diving enthusiasts began using metal detectors to search for lost items in the water.
1970s: Commercial metal detectors designed specifically for underwater use were introduced.
1980s: The first underwater metal detecting clubs and organizations were formed.
2000s: Advanced underwater metal detecting technologies, such as sidescan sonar and magnetometers, were developed.
Significance Of Underwater Metal Detecting For Archaeology And History
Underwater metal detecting plays a crucial role in unearthing history and archaeology. Here are some of the ways it benefits these fields:
It helps uncover artifacts that would otherwise remain buried or lost forever.
It provides valuable insights into past cultures and societies.
It helps fill gaps in historical record, particularly in regards to shipwrecks and underwater ruins.
Underwater metal detecting is a thrilling hobby that has contributed greatly to our understanding of history and archaeology. From ancient mechanical wonders to lost treasures, underwater metal detecting has the potential to unearth astonishing finds that enrich our knowledge of the past.
Popular Destinations For Underwater Metal Detecting
A List Of The Top Locations For Underwater Metal Detecting Around The World
Underwater metal detecting is an exciting activity that provides a thrilling adventure by exploring the mysteries of the deep, and there are excellent destinations across the globe where enthusiasts can indulge in this hobby. Let's take a closer look at some of the top locations for underwater metal detecting around the world.
Florida boasts of over 8,000 miles of coastline, making it an ideal destination for underwater metal detecting. With a rich maritime history, treasures such as gold coins, silverware, and shipwrecks are hidden within florida's waters.
The caribbean has a range of fantastic locations to explore for underwater metal detecting enthusiasts, with its clear turquoise waters and warm climate adding to its appeal. Popular spots include the bahamas, puerto rico, dominican republic, and jamaica.
The ancient ruins, seagrass meadows, and backdrops of picturesque towns make the mediterranean sea an enchanting location for underwater metal detecting. The seas hold thousands of years of history that spans different civilizations, including the greek and roman empires.
Red sea is considered one of the most stunning bodies of water on the planet, famous for its coral reefs, marine life, and underwater wrecks. From coral encrusted vessels to sunken planes, the red sea is a treasure trove of amazing artifacts and history.
Thailand's crystal-clear waters, excellent visibility, and historical relevance are among the top draws for underwater metal detecting enthusiasts. From hidden treasures in ancient temples, sunken ships, and hidden artifacts, thailand is a fantastic spot for treasure hunting.
What To Expect At Each Location
Each of the above locations has its unique charms and discoveries, ranging from exotic sea creatures to glittering treasure troves. Here's a closer look at what each destination has to offer.
Treasures in florida's waters include those that are freshly deposited from modern boaters, history from the time of the spanish invasion in the 16th to 19th century, and sunken military planes.
Caribbean islands offer a vast amount of treasure due to their history of trade routes and pirate strongholds. Those who explore the clear blue waters are likely to come across treasures ranging from gold coins to lost treasures of battles from centuries ago.
Mediterranean sea has a rich maritime history spanning centuries. From the roman ship laden in marble to 200 bc floor mosaics sunken in 8 meters of water, there is no shortage of sunken wonders to explore.
The red sea is home to wrecks of ships and aircraft from wwii, 19th century vessels, and even pharaonic maritime expeditions. Alongside the shipwrecks are colorful coral reefs, barracuda, and unusual seahorse species.
Dive underwater in thailand and witness a beautiful and diverse underwater world. Thailand's waters are home to a host of unusual marine life, floating plastic, and sunken treasures that date back centuries.
Special Rules And Regulations For Each Location
When it comes to underwater metal detecting, there are specific rules and regulations to follow to ensure safety, respect the environment, and protect cultural artifacts. Here are a few regulations to be mindful of when metal detecting in each of these destinations.
Florida state law requires divers to obtain permits to explore and remove artifacts from state waters. Additionally, it's illegal to remove artifacts within 100 years of age.
Several caribbean nations are signatories to the unesco underwater heritage convention, meaning that no excavation or removal of artifacts is allowed in their waters without permission.
Rules regarding underwater metal detecting in the mediterranean sea are often determined at the national level. Check with individual nations for any relevant guidelines.
Egyptian authorities regulate wreck removal and underwater exploration, including underwater metal detecting activities.
Thailand has strict regulations on artifact removal and requires divers to obtain permits before relic hunting. Unauthorized removal may result in being charged with the theft of national heritage.
Frequently Asked Questions For Underwater Metal Detector
What Is An Underwater Metal Detector?
An underwater metal detector is a specialized tool designed to detect metal objects hidden in underwater areas such as lakes, rivers, and oceans. It operates by sending electromagnetic signals through the water to detect any metal objects buried underwater.
How Does An Underwater Metal Detector Work?
An underwater metal detector works by emitting a magnetic field and detecting any disruption in that field caused by metal objects hidden beneath the water surface. The device then alerts the operator through sound or visual indicators to the presence of metal.
What Metals Can Be Detected With An Underwater Metal Detector?
An underwater metal detector can detect a wide range of metal objects including coins, jewelry, relics, and even large sunken vessels. It can detect metals such as gold, silver, copper, aluminum and many others.
Can Underwater Metal Detectors Be Used In Saltwater?
Yes, underwater metal detectors can be used in saltwater. However, saltwater causes interference with the signals emitted by the detector, which can make detecting metal objects more difficult.
What Are The Benefits Of Using An Underwater Metal Detector?
Using an underwater metal detector allows you to explore underwater areas and discover interesting and valuable objects. It is a fun and exciting hobby that can also be profitable, as you may discover treasure or lost items that have significant historical or cultural value.
What Features Should I Look For When Buying An Underwater Metal Detector?
When buying an underwater metal detector, consider features such as depth rating, discrimination settings, sensitivity, and target identification capabilities. Also, look for a detector that is durable, lightweight, and has a long battery life.
Conclusion
After reviewing the many benefits and advantages of using an underwater metal detector, it's clear that this tool is a great investment for any water enthusiast or professional. With enhanced technology, waterproof capabilities, and the ability to detect even the smallest metals, an underwater metal detector can make any diving experience more exciting and rewarding.
Whether you're searching for submerged treasures or working on important archaeological excavations, this tool can prove to be a valuable asset. As the technology continues to advance, we can only expect even more innovations in underwater metal detectors. However, it's important to remember to always practice responsible metal detecting, obeying local laws and regulations, and treating the underwater environment with care and respect.
Investing in an underwater metal detector not only enhances our diving experiences, but also contributes to the preservation and exploration of our underwater worlds.