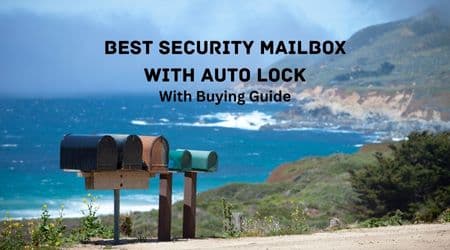 Mail theft has become quite common, and the thieves are becoming smarter day by day as the advancing technology is enhancing the security of the mailboxes.
Some people don't focus much on the security of their mailboxes, but it is quite necessary to take precautions as you may face identity theft and may get affected badly.
Therefore, for those individuals who want to enhance the security of their incoming mails and parcels, we have selected the best mailboxes that are much secured as compared to the other products in the market. Also, all of these mailboxes are durable and have different sizes to meet your needs.
It is not easy to select the best product as some mailboxes offer durability and possess large capacities, but their security system lacks. Also, some are featured with an advanced security mechanism, but they are not best when we talk about durability.
So, for your convenience, we are here with the Five best security mailboxes with an auto-lock mechanism that you can consider for your usage. Also, there is a buying guide on what things everyone should look for when going to purchase a good quality mailbox.
Related Topic : How to Protect Your Mail from Identity Theft
Best Security Mailbox with Auto Lock Of 2023
1. Mail Boss 7506 Mail Manager Locking Mailbox
The Mail Manager 7506 from MailBoss is the smallest but most secured mailbox that is ideal for small parcels and letters. First of all, it is USPS approved. Second, it is made up of heavy gauge electro-galvanized steel that makes it more secure. It is 21 inches deep, 11.25 inches in height, and its width is 10.75 inches.
It is impossible to lose any of your parcels, letters, or mails as the mailbox is featured with a baffle door that prevents fishing. The anti-pry latch locking system is best to save the mailbox from prying. And the 12-disc wafer lock with three laser cut keys increases the security of your mails and parcels. Also, it is featured with a hidden outgoing mail clip.
The mailbox is quite easy to install. It can be easily mounted on a 4×4 post. Also, it doesn't get affected due to severe weather conditions as it is powder-coated and the hinges are made up of stainless steel to prevent rusting.
Pros
Strong and durable
Anti-pry locking mechanism
USPS approved
Contemporary baffle door
12-disc wafer lock.
Cons
Sometimes the rainwater reaches the mails.
2. Mail Boss 7106 Curbside Locking Mailbox
Another good quality product from the most popular brand MailBoss is the 7106 Curbside locking mailbox. It has a large capacity as compared to the 7506 model that can easily accommodate plenty of mails and few small parcels and packages. The mailbox is 21 inches deep, 13.8 inches in height, and 11.2 inches wide.
The same heavy duty galvanized steel is used in its construction to make it strong and durable. The anti-pry latch locking mechanism enhances the security system of the mailbox. And the 12-disc wafer lock blocks the leverage entries. Also, it has a concealed outgoing mail tray.
The powder-coated finish and stainless steel hinges make it a complete weather-resistant product. Also, the Fast-Trak mounting plate and four lag bolts make the installation easier. Moreover, the mailbox comes with three laser cut keys to provide easy access to every family member.
Pros:
USPS approved
Large capacity
Anti-pry locking system
Easy to install
Durable and weather-resistant
Cons:
Design of the mailbox looks commercial instead of residential
3. Oasis 360 Locking Parcel Extra Large Mailbox
Another durable and good quality mailbox is from Oasis that has a large capacity of keeping mails and parcels safe. It is 11.5 inches tall, 11.3 inches wide, and has a depth of 20 inches. Also, the mailbox is approved from the USPS.
If we talk about its body, then it is made up of heavy gauge galvanized steel that is quite durable and reliable. Also, the powder-coated finish prevents weather-related damages. The doors come with a rubber seal, and the whole product is made up of corrosion resistant materials.
The mailbox is also secure as it is featured with an advanced locking mechanism and pry-resistant lock bracket. Also, you can easily mount it on a pilaster, column, or a wood post.
Pros:
Durable
USPS approved
Good security measures
Leak-proof
Predrilled 4 in. x 10 in. mounting holes
Cons:
4. Mail Boss Package Master 7206 Security Mailbox
The 7206 security mailbox from MailBoss is almost the same product in terms of features like the 7106, but the main reason to add it in the list is to give you the variety in dimensions. It is 16.5 inches in height, 12 inches wide, and has a depth of 21.5 inches.
The mailbox is constructed with heavy gauge electro-galvanized steel with a powder-coated finish that makes it heavy as well as durable.
If we talk about its security features, then it is powered with monopolized Mail Shield technology to keep your mails safe and prevent theft. Also, the 12-disc wafer lock and the anti-pry latch locking system are best for saving the mailbox from prying.
It also comes with three laser-cut brass keys. Moreover, the monopolized Fast-Trak mounting system is designed for quick and easy installation.
Pros:
Large capacity
Mail-shield technology
Heavy duty and durable
Easy installation
Available in different colors
Cons:
Confusing from some mail carriers on its correct usage
5. Salsbury Industries 4325BLK Roadside Mailbox
The 4325BLK mailbox from Salsbury Industries is another secure mailbox that you can purchase to keep your incoming mails and parcels safe and secure. It is 18.25 inches deep, 13.25 inches in height, and has a width of 12.5 inches.
The mailbox is featured with an outgoing mail tray located at the top. The middle section is for depositing the incoming mails, and the last section is the secured one where your mails rest with a secure locking system. The box is also equipped with a backside locking door along with the one that is at the front, made for keeping your mails safe.
Other than this, it is made up of solid aluminum with powder coated finish that makes it a durable product. Also, you can easily mount the mailbox on walls, posts, or columns.
One thing that you should keep in mind is to ask the mail carrier to use the box correctly to keep your mails protected.
Pros:
USPS approved
Durable
2-sided access with secured locking system
Available in different colors
Cons:
Installation hardware is not included
Buyer's Guide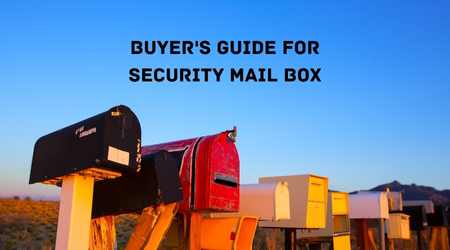 There are various things that you should look for when purchasing the best security mailbox. As your mailbox, mails, and parcels are valuable, so it is necessary to make sure that the product you are going to buy is capable enough to save your things from being stolen.
Dimensions
The size of the mailbox is the most important thing that you should look for. The height, width, and depth of the mailbox depend on your needs. They are available in different sizes so always select the one that can easily accommodate your incoming mails, parcels, envelopes, etc. If you receive the mails more frequently, then you should consider the mailbox that has a large capacity. Also, if you frequently travel then the large capacity mailboxes are ideal for you. On the other hand, prefer small-sized mailboxes if you get few mails in months.
Construction Material
The construction material of your mailbox must be well enough so that it can bear the hardness of all the weathers well. Always go for those materials that can prevent rusting and corrosion.
Some mailboxes are constructed with heavy-duty galvanized steel to make them tough and durable whereas some mailboxes come with stainless steel and aluminum body which are also durable. Also, some manufacturers prefer both the heavy-duty plastic and aluminum to construct the mailboxes.
But, it is best to go with galvanized steel. It is more durable as compared to other materials. Also, the powder-coated finish makes the mailboxes resistant to optimum weather.
Moreover, always check the other parts of the mailbox whether they are durable or not. All the hardware must be made from corrosion resistant materials. Always check the hinges as they must be of stainless steel. Furthermore, the doors must be rubber sealed to block the rainwater from entering into the mail compartments.
Security
If your mailbox is of ideal dimensions and made up of good material but not the best in terms of security, then the dimensions and durability will never save your mailbox or mails from being stolen. The best mailbox is the one having a good security system that prevents fishing, prying, leveraged entry, and vandalism.
Therefore, before going to purchase the mailbox, its security measures must be checked and confirmed thoroughly.
In the above list, the mailboxes from MailBoss are best in terms of security. They are featured with the Mail Shield Technology, anti-pry latch locking mechanism and 12-disc wafer lock with laser cut keys. Also, the other mailboxes have pry-resistant lock bracket, incoming and outgoing doors with hidden locks, and the removable trap door for protecting the mails from theft.
Moreover, some mailboxes are featured with secured outgoing mail trays, but some come with the unsecured ones. So, as your incoming mails are valuable, you should also keep an eye on your outgoing mails.
In a nutshell, security is the main thing. So, always select the mailbox that is featured with an advanced security system.
Installation
Always select the mailbox that is easy to install or mount. Some manufacturers offer the mounting hardware, but there are some companies that don't provide the hardware with the product. So, always make sure that there is installation hardware within the box.
How Auto Lock Technology Enhances Mailbox Security
Evolution Of Mailbox Security
Over the years, mailbox security has become increasingly important as the risk of mail theft and identity fraud continues to rise. Traditional mailboxes with basic locks are no longer sufficient in ensuring the safety of our personal information. As a result, innovative advancements in technology have led to the development of security mailboxes with auto lock technology.
These cutting-edge mailboxes offer enhanced protection and convenience for both businesses and homeowners. In this section, we will explore how auto lock technology has revolutionized mailbox security.
Introducing Auto Lock Technology
Auto lock technology is a groundbreaking feature that has significantly improved the security of mailboxes. It eliminates the need for manual locking, reducing the chances of human error and ensuring that your mailbox is always securely locked. This technology utilizes electronic mechanisms to automatically lock the mailbox after mail is delivered or retrieved.
Here are the key points to note about auto lock technology:
Convenience: With auto lock technology, you no longer have to remember to lock your mailbox or worry about forgetting to do so. The automated system takes care of it for you, offering peace of mind and saving you valuable time.
Advanced security: Unlike traditional locks that can be easily picked or tampered with, auto lock technology provides a higher level of security. The electronic locking mechanism is more resistant to forced entry, deterring potential thieves and protecting your mail and personal information.
Keyless entry: Some security mailboxes with auto lock technology also offer keyless entry options, eliminating the need to carry keys or remember combinations. You can use a secure code or access card to open your mailbox, making it even more convenient and user-friendly.
Benefits Of Auto Lock Technology
The benefits of auto lock technology go beyond just improved security. Here are some of the advantages that make these mailboxes a worthwhile investment:
Mail protection: By automatically locking after each use, auto lock technology prevents unauthorized access to your mail. This is especially crucial for sensitive documents and packages that contain valuable or personal information.
Enhanced privacy: With an auto lock mailbox, you can be confident that your mail is protected from prying eyes. The secure locking system ensures that only authorized individuals can access the contents of your mailbox, enhancing your privacy.
Time savings: The automated locking feature of these mailboxes saves you time and effort. You no longer need to manually lock your mailbox each time or worry about whether you remembered to do so. This convenience allows you to focus on other tasks without compromising on security.
Longevity: Security mailboxes with auto lock technology are built to be durable and withstand harsh weather conditions. They are often made from high-quality materials that can resist corrosion and vandalism, ensuring the longevity of your investment.
Auto lock technology has revolutionized mailbox security by providing enhanced convenience and advanced protection. These security mailboxes offer numerous benefits, such as improved mail protection, enhanced privacy, time savings, and long-lasting durability. With auto lock technology, you can have peace of mind knowing that your mail and personal information are secure, making it a valuable addition to your home or business.
Installation And Maintenance Tips For Security Mailbox With Auto Lock
Preparing For Installation
Before installing your security mailbox with auto lock, there are a few important steps you need to take to ensure a smooth and successful installation process. Here are some key points to keep in mind:
Measure twice, install once: Take accurate measurements of the area where you plan to install the security mailbox. This will help you choose the appropriate size and ensure a snug fit.
Choose the right location: Select a secure and easily accessible spot for your security mailbox. Keep in mind that it should be visible to your postal carrier but out of reach from potential thieves.
Gather the necessary tools: Make sure you have all the tools you'll need for installation, such as a drill, screws, screwdrivers, and a level. Having everything ready beforehand will save you time and frustration.
Steps For Proper Installation
Now that you're prepared, it's time to install your security mailbox with auto lock. Follow these step-by-step instructions to ensure a proper installation:
Position the mailbox: Place the security mailbox in the chosen location, ensuring it is level and centered. Use a level to double-check its alignment.
Mark the holes: With the mailbox in position, mark the mounting holes on the surface using a pencil or marker. This will serve as a guide for drilling.
Drill the holes: Use a drill bit appropriate for your mounting surface to create pilot holes in the marked spots. Be cautious not to drill too deep or damage any existing infrastructure.
Attach the mounting bracket: Place the mounting bracket over the pilot holes and secure it in place using screws or bolts. Ensure it is firmly attached and level.
Install the mailbox: Align the mailbox with the mounting bracket and secure it in place using the provided screws or bolts. Double-check its alignment and make any necessary adjustments.
Test the auto lock mechanism: If your security mailbox comes with an auto lock feature, test it to ensure it is functioning properly. Follow the manufacturer's instructions for set-up and use.
Routine Maintenance And Care
To keep your security mailbox with auto lock in optimal condition and maximize its lifespan, regular maintenance and care are essential. Here are some tips to help you maintain your security mailbox:
Clean regularly: Regularly clean the exterior of the mailbox using a mild soap and water solution. Avoid using abrasive cleaners that may damage the finish.
Inspect for damage: Periodically inspect your security mailbox for any signs of damage, such as dents or loose screws. Address any issues promptly to prevent further damage.
Lubricate moving parts: If your mailbox has moving parts, such as the auto lock mechanism, apply lubricant as recommended by the manufacturer. This will keep the parts functioning smoothly.
Remove obstructions: Clear away any obstructions, such as overgrown vegetation or snow, that may hinder access to your security mailbox. This will ensure convenient and safe use.
Stay vigilant: Regularly monitor your mailbox for any suspicious activity or tampering. Report any concerns to the appropriate authorities.
By following these installation and maintenance tips, you can enjoy the benefits of a secure mailbox with auto lock while ensuring its longevity. Remember to always refer to the manufacturer's instructions for specific guidance related to your security mailbox model.
Frequently Asked Questions Of Security Mailbox With Auto Lock
How Does An Auto Lock Security Mailbox Work?
An auto lock security mailbox works by automatically locking itself after mail is deposited, preventing unauthorized access. The locking mechanism is triggered once the mail slot is closed, ensuring your mail is safe and secure until you're ready to retrieve it.
Are Auto Lock Security Mailboxes Difficult To Install?
No, auto lock security mailboxes are designed to be user-friendly and easy to install. They typically come with detailed installation instructions and all the necessary hardware. With a few basic tools and some diy skills, you'll have your mailbox up and running in no time.
What Are The Benefits Of Using A Security Mailbox With Auto Lock?
A security mailbox with auto lock offers several benefits. It provides peace of mind knowing that your mail is safe from theft. It also eliminates the risk of sensitive documents being tampered with or lost. Additionally, these mailboxes are built to withstand various weather conditions, ensuring the contents stay protected.
How Secure Are Auto Lock Security Mailboxes?
Auto lock security mailboxes are highly secure. They are constructed with durable materials such as heavy-gauge steel and feature advanced locking mechanisms to deter unauthorized access. Some models even have additional security features like anti-pry doors and reinforced hinges, making them extremely difficult to break into.
Can I Still Receive Large Packages With A Security Mailbox With Auto Lock?
Most security mailboxes with auto lock are designed to accommodate standard mail sizes. However, there are models available that also have larger compartments to accommodate small packages. It's important to check the specifications of the particular model you're interested in to ensure it meets your specific needs.
Conclusion
Overall, owning a security mailbox with auto lock can greatly enhance the safety and security of your mail. With its advanced technology and automatic locking system, this mailbox ensures that only authorized individuals can access your mail, protecting you from identity theft and mail tampering.
Additionally, the durable construction of these mailboxes further enhances their security, making them resistant to break-ins and vandalism. Not only will a security mailbox with auto lock provide you with peace of mind, but it will also save you time and inconvenience by eliminating the need for trips to the post office to collect your mail.
With these benefits in mind, investing in a security mailbox with auto lock is a smart choice for anyone who values the security of their personal information. Don't compromise on the safety of your mail – make the switch today and enjoy the peace of mind that comes with enhanced security.