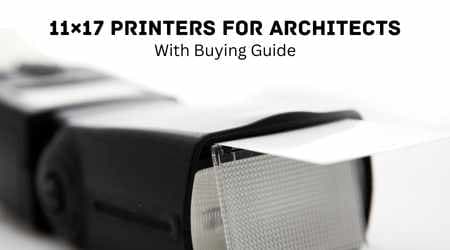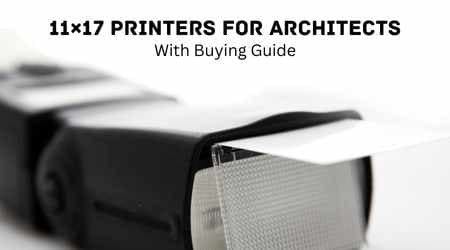 Architects have to make a lot of printouts. Project proposals, blueprints, speculative designs are just some of the things that they have to print out. Most architects use printers all day long, so if you want to succeed as an architect you have to find the right printer. Some qualities to look for are printing speed, color accuracy and ink usage. Finding the right printer using this information can be very time consuming, though. The list below contains the top five printers on the market, all of which can easily print in the 11×17 format.
Also check: Best Printers for College Students
Do check our expert level buying guide if you don't know which 11×17 is perfect for your needs.
Best 11×17 Printers Compared
| Product Name | Print resolution | Maximum Paper Size | Cartridges included | Display Screen |
| --- | --- | --- | --- | --- |
| Epson Artisan 1430 | 5760 x 1440 dpi | 13 x 19 inch | 6 | Yes |
| Canon PIXMA Pro-100 | 4800×2400 dpi | 13 x 19 inch | 8 | No |
| HP OfficeJet Pro 7740 | 4800×1200 dpi | 11 x 17 inch | 1 | Colored TouchScreen |
| Brother MFC-J6930DW | 4800×1200 dpi | 11 x 17 inch | 2 | Colored TouchScreen |
| Canon Pixma iX6520 | 9600×2400 dpi | 13 x 19 inch | None | No |
1. Epson Artisan 1430 Wireless Color Wide-Format Inkjet Printer
Features
6 color Claria ink
Direct printing from mobile devices
Prints borderless photos
Wi-Fi connectivity
What We Liked
Wireless printing: When you are working in an office, you have to share the printer with a lot of people. Standing line for the printer can be very frustrating. With this printer all of the data can be fed wirelessly. Everyone can get their printouts without having to leave their workstation. This really improves efficiency in the workplace!
Print directly from mobile: A lot of your work will be done on smartphones and tablets. This is because you will be working from outside the office as well. This printer can print things directly from your phone or tablet. You won't have to transfer any files to a computer.
Borderless printing: Low end printers always create borders in the printouts. This printer is clearly a step above the rest. It prints all the way to edge of the paper you're using. This creates much more professional printouts which you can use in your presentations. Clients are definitely going to appreciate the more professional looking printouts that this printer creates.
Supports wide format printing: Architects usually need wide format printouts. A4 pages don't cut it sometimes, especially if you are working on a big project with lots of detail. This printer is designed to support wide format printing which can help you display what you have been working on in a more visually appealing way.
What We Didn't Like
Can't print on thick paper: Thick stock paper is sometimes necessary for presentations. Clients respond to thicker paper better, and it makes the printouts more durable. This printer can't handle thicker paper which can cause a lot of inconvenience.
Color banding when bulk printing: The wireless printing feature can help multiple people use this printer at once but you might notice some banding when bulk printing. This can ruin entire batches of printouts and waste a lot of expensive paper.
2. Canon PIXMA Pro-100 Wireless Color Professional Inkjet Printer
Features
8 dye based inks
4800 x 2800 dpi
Optimum Image Generating System
CD and DVD printing
What We Liked
Versatile printing: Not all printing is done on paper. Sometimes you need to print on different surfaces. DVD and CD printing is very important. This product can print on DVDs and CDs. This is great for commercial use. It is also useful for personal use. This feature is hard to find in mass market printers. It boosts the value of this product a lot.
High image clarity: When you print something you want it to look as close to the original image as possible. This printer offer superior clarity while printing. The printouts you get will look remarkably close to the original image. The high dots per inch rate helps boost clarity and makes it easier to use the printer for detailed architectural printouts. You want your boss to see every inch of your project easily, this printer helps you do that.
Fast printing: When you are working as an architect, you need your printouts to come as quickly as possible. This printer is great at printing things rapidly. You can line up printouts easily without worrying about the printer getting stuck or overheating.
Balanced ink height: The height of the ink on the paper can change how clear the image is. This printer creates images with a balanced, uniform ink height. This changes how much light your image reflects and also ends up using less ink with each printout.
What We Didn't Like
Less clarity in greyscale: While this printer does very well in color printouts, it doesn't hold up when you're printing black and white or grayscale. The printout becomes less accurate when you try to use this feature, possibly because this printer specializes in color printing.
3. HP OfficeJet Pro 7740
Features
Multiple paper types supported
Economical bulk printing
Bulk scanning
Laser quality text and color
What We Liked
Economical: This printer was created for economical bulk printing. If you have worked at an architectural firm, you would know that people print vast numbers of pages every day. This can become quite expensive over time. This printer is so economical that it can help you save up to half of your overall printing costs. Buying this printer can be a smart financial move.
Bulk scanning: A lot of printers let you print in bulk, but bulk scanning is a much rarer quality. This printer comes with a fast scan feature that lets you scan a lot of pages one after another. It also has an automatic document feeder so you don't have to stand there and change pages while scanning. This helps you scan copies of printouts at a much higher rate which can really boost your efficiency. Sometimes you need to scan printouts because clients want a soft copy. This printer lets you reach this goal very quickly.
Price: A good printer for an affordable price. This is a combo that every buyer looks for, no matter what type of product they have in mind. The price helps make this printer a bargain that you would definitely want to check out. It's not exactly cheap, but the price is definitely reasonably for professionals.
Touch display: This printer comes with a vibrant touch display that makes it very easy to use. The touch display helps you visualize the features this printer offers which can be quite useful.
What We Didn't Like
Big and heavy: If you want this printer you will have to find a place to put it. It takes up a lot of space and is rather heavy as well. You need to find a place where you can leave it for a long time, because once it is there it will be difficult to move it anywhere else.
4. Brother MFC-J6930DW
Features
500 sheet paper tray
Amazon Dash Replenishment
Duplex scanning
What We Liked
Duplex scanning: You will no longer have to wait ages for a printer to scan your pages. This product offers duplex scanning. This means that it can scan both sides of the page at the same time, cutting overall scanning time in half.
Low cost per page: Since this printer is meant for large scale and commercial use, it prints economically and quickly. This low cost per page helps justify the asking price for the printer.
500 sheet paper tray: Constantly restocking paper in the tray is time consuming, not to mention tiring. You can stock up to five hundred sheets of paper in this printer's tray which should last a fairly long time.
What We Didn't Like
Low life span: This printer is quite durable in the short term, but over time it starts to become defective. Printing problems become a lot more common later on in the product's lifespan.
Software issues: The hardware is solid but the printer has some trouble with drivers. This may be an isolated issue, but we had to reload the drivers constantly to get the printer to work properly.
5. Canon Pixma iX6520 Inkjet Printer
Features
Borderless printing
Supports thick paper
Auto shutoff
What We Liked
Rapid printing: A borderless printout takes a lot of time to complete. This printer is designed for efficiency and can get the job done in half a minute. This can help you quickly prepare presentations once your project is complete.
Automatic shutdown: If you leave this printer idle for a while it will turn itself off. This can help you save a lot of electricity.
Photo printing: You can use this printer to create amazing photographs. Project proposals often require you to use photos. This printer can help you knock your clients' socks off!
Compact: A great quality of this printer is that it doesn't need too much space. This is great for people that don't have very big offices.
What We Didn't Like
Ink dumping: This printer sometimes randomly uses more ink than necessary. Printer ink is expensive, so this printer can end up costing a lot of money in the long run.
Takes time to warm up: When you turn this printer on you will have to wait a couple of minutes before it is ready to print. This can be very frustrating and stressful in a high pressure environment.
For an architect, a printer is one of the most important parts of his business setup. Simply put, your printer is the soul of business that gives shape to your ideas and designs. All your project proposals, blueprints, maps, and layouts need to be printed in high quality so that your clients can analyze them in a better way. Architects have to print a lot of times. Any project needs tens of revisions and improvements before you can finalize it. You have to get the best printer that will enhance your performance by giving you the prints in the finest quality.
Getting an 11×17 printer can be a daunting task for architects. Since most of the architects are not greatly familiar with the technicalities of the printer. We care for you and your business, which is why we are not only bringing you the best printers available in the market but also a buying guide to help you make the best possible decision. This buying guide will take you through all the important concerns that you may have in your mind. We are confident that after reading our well-researched guide, you will be in a position to select the most appropriate printer from our list that will go a long way with you.
How to buy a 11×17 Printer?
What is the ideal printing resolution?
This is the first question that comes to an architect's mind while buying a printer is the resolution it offers. Well, a simple answer to this question is the more the merrier. At this point, you have to consider the specification of your work and your budget. If the prints you intend to take must be of very high quality and perfect to the tiniest detail, then a printer with 4800 x 2800 dpi or more is perfect for you. You also have to keep your budget in mind. We suggest that you do not compromise on this feature for a few dollars as prints with high resolution greatly impact the quality of your work in a positive way
What is the trade-off between printing quality and printing speed?
Another important question that comes to your mind is the trade-off between printing speed and printing quality. Often printers that offer high quality take too much time in printing or vice-versa. Printers from Canon and Epson come with the least compromise on this quality.
What is the trade-off between color printing and greyscale?
Some printers are good with color printing and others are amazing with grey scale printing. This is also a compromise that you have to make while buying a printer. Printers which give you fully balanced and high-quality color prints often fail to show the same performance in grey scale printing. You have to make this decision depending upon the nature of your work. If your work revolves around color printing mostly, then the quality of color printing should be of main concern.
What is the trade-off between printer price and ink price?
Some printers have a considerable price difference, though they have the same features. The reason is that their ink is very costly and they come with a very less quantity of ink. Depending upon your use, these printers can stop working due to ink shortage very soon. Refilling of ink cartridges can be very costly.
What should be the scanning capabilities of my printer?
Scanning any paper takes a lot of time on a conventional printer. For architects, scanning should be fast and of high quality. Bulk scanning and duplex scanning are some of the features to look forward in the printers. Please keep in mind that printers with scanners are a bit heavy on your pocket.
How many paper trays should my printer have?
If you are planning to print only wide documents with this printer, then you can select a printer with only one try for papers. However, if you want to print both wide and standard documents on regular basis, then a printer with multiple trays of different sizes is the best one for you. Paper storage is also of considerable importance.
How many connectivity options should my printer have?
Now, this is something that can either enhance your working or inhibit it. A printer with more connectivity options allows you to work from different platforms such as your computer or tablets. A good printer will always offer you connectivity for Windows and Mac interfaces. Taking prints directly from your smartphones, USB and other devices allow you to save time.
Should my printer have other printing options?
Sometimes your client may ask for blueprints or designs on a CD or DVD instead of paper prints. You might also need to store your projects in DVDs considering the limitation of storage space on your computer and the large size of projects. This option can come in handy at such times. If you are looking it to use this feature for personal uses, then you can keep your work confident by avoiding getting it burned on DVD from public places.
How many types of paper should my printer support?
Buying a printer that supports different types of papers is always a good option. Being an architect, you may need to print on papers with varying thicknesses.
Is the control panel helpful?
There are different models in the market that come with control panels. These panels can be either touch or with buttons. Such additions, sometimes, only make the price higher for the printers as it does not add any value to the printing speed or printing quality. If you want your printer to look aesthetically pleasant at your workplace, you can select this option.
What other features should my printer have to give it an edge over other printers?
Features like easy to set-up and install, user-friendly smartphone and Windows/Mac interface, warranty, WiFi connectivity, printing from mobile devices, compact size and design, less weight consuming less power, going in power saving mode when not in use, and auto shutdown add value to your printer. WiFi connectivity offers you the freedom of placing your printing anywhere you like in the office. These serve as icing on the top.
Let's Take Awesome Prints!!!
For the final word, we would like to add that we are very sure that after reading our buying guide, you will be able to select the best printer according to your needs. The first two printers in our list from Canon and Epson are the best. We have done a detailed research on these two models and then placed them at the top to give you unmatched printing quality and speed.
Conclusion: The Epson Artisan 1430 ends up being the winner as far as the market is concerned. Any good printer will cost you a pretty penny, but this product manages to squeeze a lot of value into a surprisingly cheap price tag. If the features this printer has are not what you are looking for, any of the five printers above will do a fine job for any experienced or aspiring architect. The beautiful printouts you will make will help you soar to the highest ranks in your firm, all because you made the right choice of printer.
Dear Architects! We do not know the exact specifications of your business. This buying guide is a generic guide that tries to solve all your queries.